Once the membership details have been reviewed/verified, the Registrar will extract a csv. Excel file for importing into the Foireann system.

This file will only include the members who were verified in the Registrar Review Members section.
To download this file, you will need to return to Manage Foireann Members page on Clubforce and select "Export Data for FOIREANN"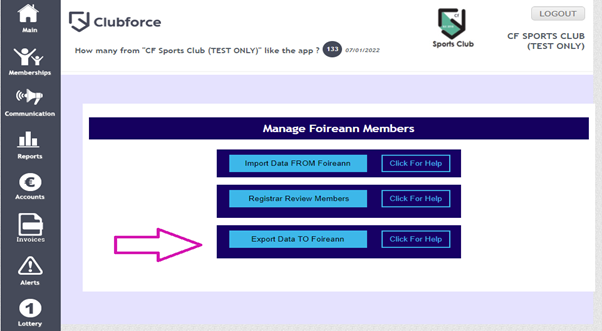 This is used to select the Membership Forms for the current year which are be extracted for upload to Foireann system. The Registrar will select the Membership Form to be extracted by clicking on the current year's memberships.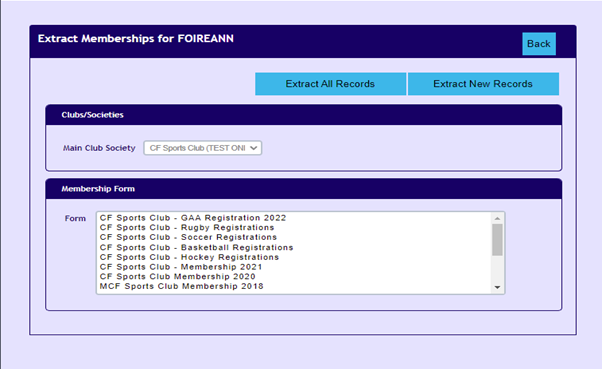 Once selected, there will have two options. The Registrar can click Extract All Records – to extract all Verified membership records – regardless of whether they have been extracted previously. Or they can click Extract New Records – to extract any Verified membership records which have not previously been extracted – or which have been modified since last extract.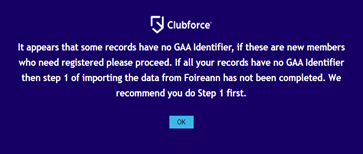 After choosing one of these options, a pop up will appear. This is an alert to inform you that records in your selection do not have a GAA Identifier. If these records are new members then you can proceed with the upload, as these members will be allocated an Identifier Number once registered on Foireann. If however, they are returning members, then Step 1 of the process has not been completed and you will need to complete this Step before verifying any members or exporting records to Foireann. Click OK to proceed to the next page.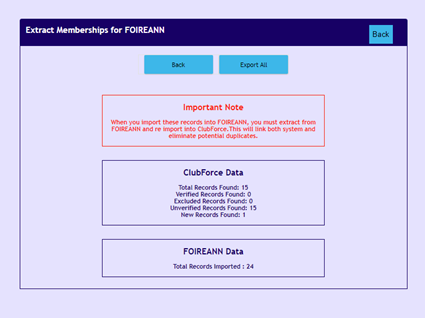 On the next page, a summary screen will appear with a breakdown of the data collected so far. You will be able to see details of the records verified/excluded/unverified along with a figure for the total number of records found imported so far.

To download the excel file, click on the Export All button. A GDPR disclaimer will pop up on screen. As the Registrar is about to export confidential member data, we will ask if they are sure the device about to download this data is secure? We advise clubs to never download this data on public or shared device. If you're unsure, click the back button and do not proceed. If you are sure it is secure, then click Proceed and the system will then extract the records and save the file to your computer's Downloads folder. The excel file name will be CF-FOIREANN, followed by the timestamp of the date/time the file was downloaded.

At this point, you will access their downloads folder and open this file. The Registrar will open and save the csv. file again after downloading it. No changes need to be made to the file and the csv. format must be retained.

This will ensure the file submission works correctly on the Foireann system. You can save this file in a new folder on your device that you can keep for all Foireann uploads. If you do not open and save the file again, you will receive a Failure result on the Foireann system.

The final step will be to upload this file into Foireann