The first step in the Foireann Integration process of registering your members is to download a list of your previous seasons registered members from Foireann for exporting into Clubforce. You will need to do this each time you upload your members from Clubforce onto Foireann.

To log into Foireann, go to https://returntoplay.gaa.ie/ and log in with your assigned credentials for your club. If you do not have login details for your clubs Foireann account, then please contact the GAA.





Once you are logged in, you will see a tab on the left-hand side with a list of options. Click on the Membership option to bring up a list of all of your members. You will then click on the filter option located on the right-hand side of the page.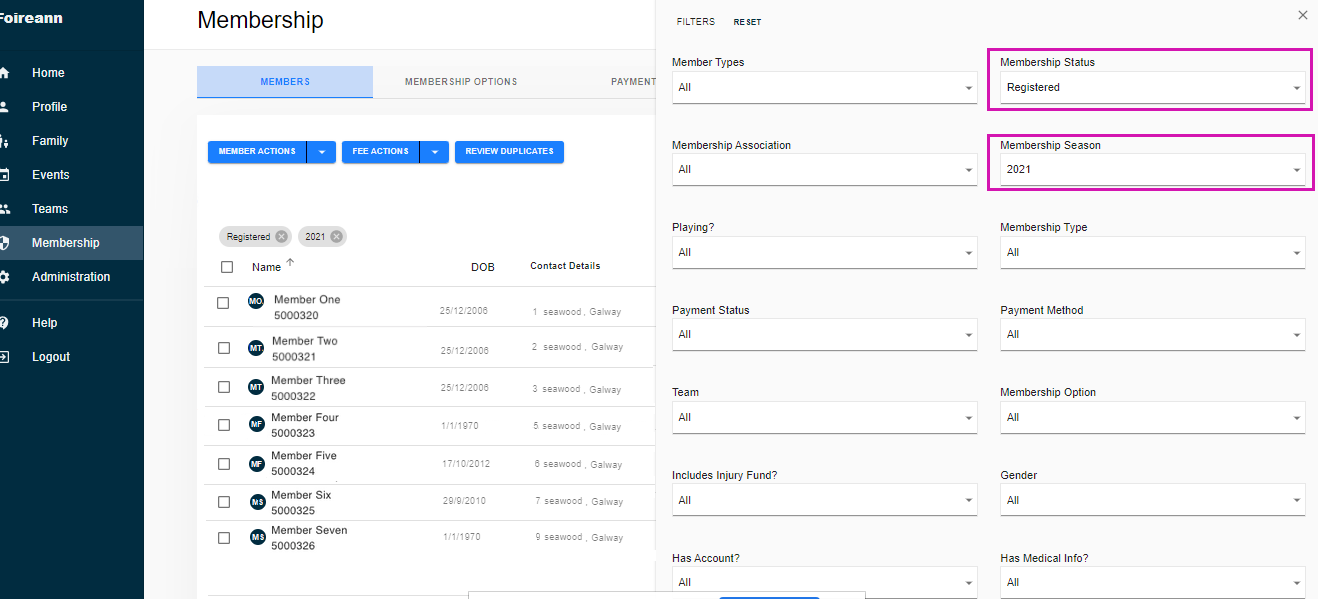 You will need to filter the list of members to select only those members who were registered in the previous year. So the first filter to apply will be in the Membership Status column. Click on the drop-down menu under this heading and select Registered. When you select this option, the filter menu will close so you will need to open it again and click on the drop-down menu under Membership Season. You will select the previous year in this list to focus on all registered members from last season.





Once you have selected both filters, the list of members will be updated accordingly. Above the filter option will be a blue button titled Bulk Actions. Clicking this button will give you a drop-down menu of 4 options, one of which is Export Filtered Members. When you select this option, Foireann will download a csv. file of the filtered members list, which you can then import into Clubforce for crosschecking. The exported file will be timestamped and should not be opened or edited before uploading into Clubforce.


The next step in the process is to go to Clubforce and import the exported file into your admin panel. To import this list into your admin panel
Login to Clubforce
Highlight Memberships on the left hand side.
Click on FOIREANN
Select Import DATA For Foireann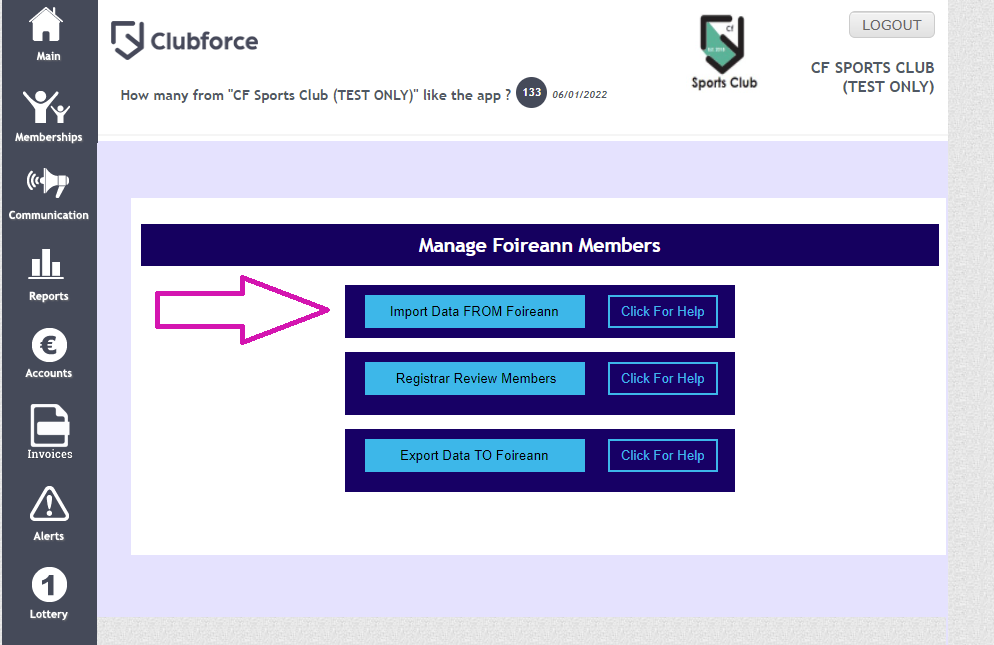 If you do not have login details for your clubs admin panel, or access to the Foireann section on the admin panel, then please contact our Support Team
When accessed, the system displays two columns as follows:
IMPORT FOIREANN MEMBERS
SAVED FOIREANN MEMBERS

User should proceed as follows:
Click "Browse" – to open navigation pane – use this to locate and select the file previously exported from Foireann.
Click "Upload to screen" – this will read and import the data from the saved file. This may a few moments to upload so please be patient. Uploaded data will be displayed on left hand side of screen for review.
3. Click "Import Now" – this will save the uploaded data and this will then be displayed on right hand side of the screen.
The system will process your members details and add the new GAA Identifier for those that match. If members have no GAA ID on the export file then these records will not be imported. You will be notified of the total number of members with a missing GAA Identifier in a pop-up on screen. We advise you to contact the GAA directly to highlight these members and their missing Identifier.

Once this list has been imported, you can proceed onto the next step of Verify Membership details in Clubforce system