The second step in the process is to review your current membership data which has been entered to Clubforce system – either by users registering online or by club administrators registering members manually through Club Admin panel.


As members are registered online for the new membership year, this function provides registrar with facility to review, validate and verify membership details as these are registered. This also provides Registrar with the option to exclude any membership they don't want to send up. Registrations for the LGFA and Camogie can be correctly assigned in this section also as well. All memberships must be reviewed and verified before being extracted for upload to the Foireann system.


It is expected that Registrar will use this function regularly as the memberships are registered. Each time they use the function they can pick up where they left off – only picking up memberships which have not yet been reviewed / verified and working on these.


To begin the review of your memberships, click the back button from the Import Data FROM Foireann section or
Select Memberships
Click on FOIREANN
Click on Registrar Review Members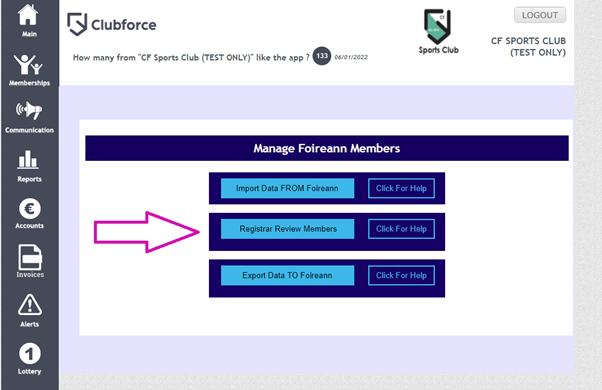 In Registrar Review Members, the Registrar will select the relevant Membership form from the list detailed below a series of options listed at the top of the screen. All membership records are separated into 4 folders.
All Records
Excluded Records
Verified Records
Unverified Records
A number is listed beside each folder. The Registrar will select the Unverified Records folder and begin to verify or exclude membership records. The goal is to ensure no figure is listed beside Unverified Records.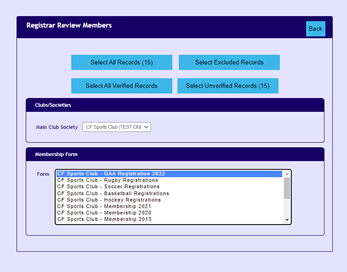 This next page shows details of membership information as it is presented to Registrar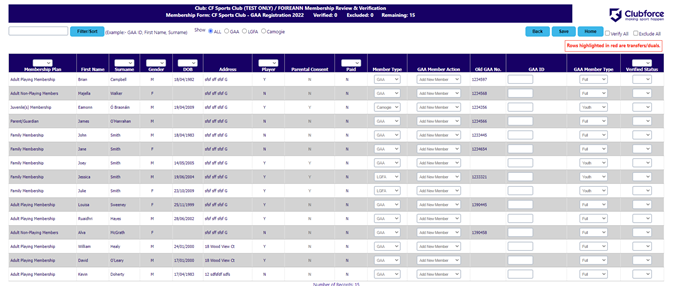 The Registrar will proceed to review and either verify/exclude the membership record. This is done by reviewing / updating the following fields for each membership record:
Member Type is set to initial value of GAA or LGFA, depending on their Gender and D.O.B. for all members. User can change this value to GAA, LGFA Camogie using the dropdown list when editing this field.
In this field, you will see a value of Reregister or Add New Member.
If a member is set to Reregister, then the crosscheck carried out in Step 1 has found a GAA Identifier match for this record. This means that an existing member renewing their membership. If it is set to Add New Member – then the crosscheck did not find a match, indicating this is a new member registering with the club for the first time.
This is a members ServaSport No. – if your club previously completed an upload on Servasport using the Clubforce system, then your members will have their ServaSport number linked to their account. We are retaining this number for the timebeing in case there is a need for the club or member to reference it in the future.

If your club never completed an upload to Servasport using Clubforce before, then this field will remain blank for your listed members and there is no requirement to populate it.
For any member with a GAA Member Action of Reregister, then you will be required to select the existing GAA Member ID in the drop-down menu. Where a match is found in the Foireann records previously uploaded (in first step described above) – based on Name / Gender/ Address / Date of Birth (where available), a dropdown button appears beside the Member ID entry field. When this is clicked, any matching records are displayed – along with other identifying information (Address) – and user can click on any one of the records displayed and the Member ID will then be put into this field for this record. Depending on the results of the crosscheck, this field may already be populated for this member.
When first displayed, all records have initial value of Full, Youth (members under 18 on January 1st of registration year) or Social (for members with no D.O.B. listed) – Other possible values can be selected from the dropdown list as follows:

Honorary – for members given Honorary membership status
G4MNO – Gaelic 4 Mothers and Others

The value selected here will be the category the member is registered under in Foireann for the current Membership Year
When first displayed, all records have a initial value of Blank – indicating this member has not yet been reviewed. When details have been reviewed / updated, user can select the following values from the drop down list:
o Y – indicating this record has been reviewed and is verified and ready for extract
o X – indicating this record has been reviewed and is to be excluded from any extract
The Registrar can click Home to close this function and return to main Admin Panel menu. Next>> will navigate to next page of membership records. <<Prev will navigate to previous page of membership records. Note, if used tries to navigate off page with unsaved changes, system displays a warning and user can click confirm to exit without saving or can click Save to save changes and then click navigate to Home / Next>> / <<Prev as required.

If the Registrar clicks the Verify All checkbox, system sets all displayed records, which have not had a Verified Status already set, to Verified Status = "Y", meaning these records will be included in any Extract. If user clicks Exclude All checkbox, system sets all displayed records, which have not had a Verified Status set to, to Verified Status = "X" – meaning these records will be excluded from any Extract.

Once required changes are made to the displayed membership records, user clicks Save to save changes to database. If no errors are found, system displays message "Changes have been saved" in the message box at top of screen. Updated fields are highlighted with a Green border once modified. Any errors found are displayed in message box at top of screen and fields in error are highlighted with a Red border. The possible errors are as follows:
Member ID required for highlighted members – Member ID required for Reregister action
Duplicate Member ID entered where indicated – Member ID already used on another record – if you see this appear, tick the box beside the inputted ID and proceed. All submitted members will a receive a new Foireann ID regardless of their old Servasport ID
The Verified and Excluded Folders on Registrar Review Members will update based on the selections inputted by the Registrar on this page. They can click on the Back to return to the previous page and view either of these folders. Registrars can also Filter/Sort based on the headings or to search for a particular member on the list as well.

Once your memberships have been verified, you can proceed onto the next step of Extracting Verified membership details from Clubforce system