When deciding upon your Emil list for sending a Newsletter, the only options provided are your Membership registrations, your Expired Lotto Players and Newsletter subscribers. Your Current Lotto players are excluded from this list.

However, you can add your Lotto players emails into the Newsletter Subscriber list and select them individually if you need to contact them in relation to your Clubs Lotto.

The first step in this process is to go to Lottery on the left hand side menu and then select Current Lotto Players. Once you click Find, you'll be presented with a full list of Active Lotto Players. This list can be exported to Excel by clicking the Export button.

Once you've download this list, you will return to the admin panel. Select Communication on the side menu and then click on Newsletter Subscribers. A further sub menu will appear with 3 options - List, Search and Append. Click on Append to begin adding emails to your subscribers list.

All you will need to add is the email and name of the member before clicking Save. If the email already exists in the database, then a message will pop up stating Record cannot be SAVED - Email already exists within this Local Lottery. You can proceed onto the next email in your Lotto Players list then.

Once completed, you can then send a Newsletter and choose Newsletter subscribers when choosing your Email list.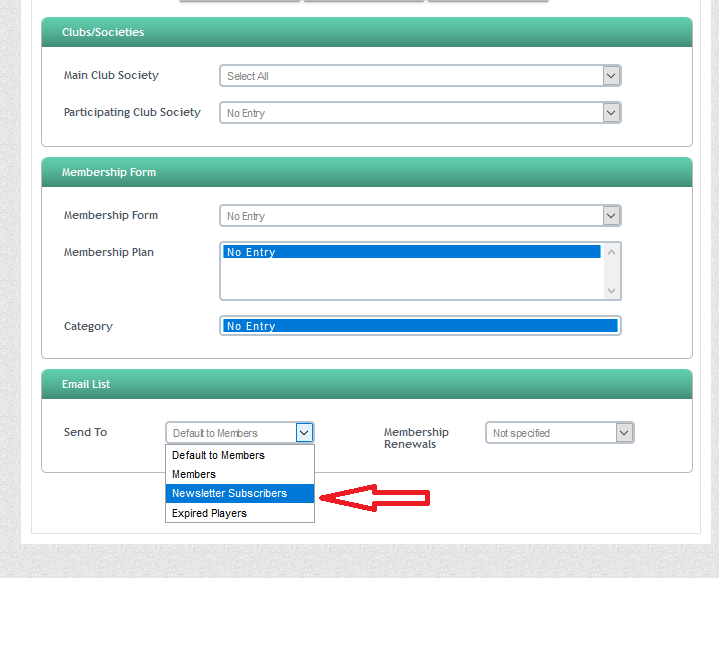 You can choose to send to all emails on this list or select individual emails if you wish on the next page. To learn more about the Newsletter feature, click HERE to view our tutorial article.