If you wish to create a Family Plan that will incorporate a number of your existing plan options, there is a simple method that will allow you to group multiple plans into one bundle at a discounted rate.

To start the process of creating a plan bundle, click the New Bundle button in the top right hand side of the Membership plans page.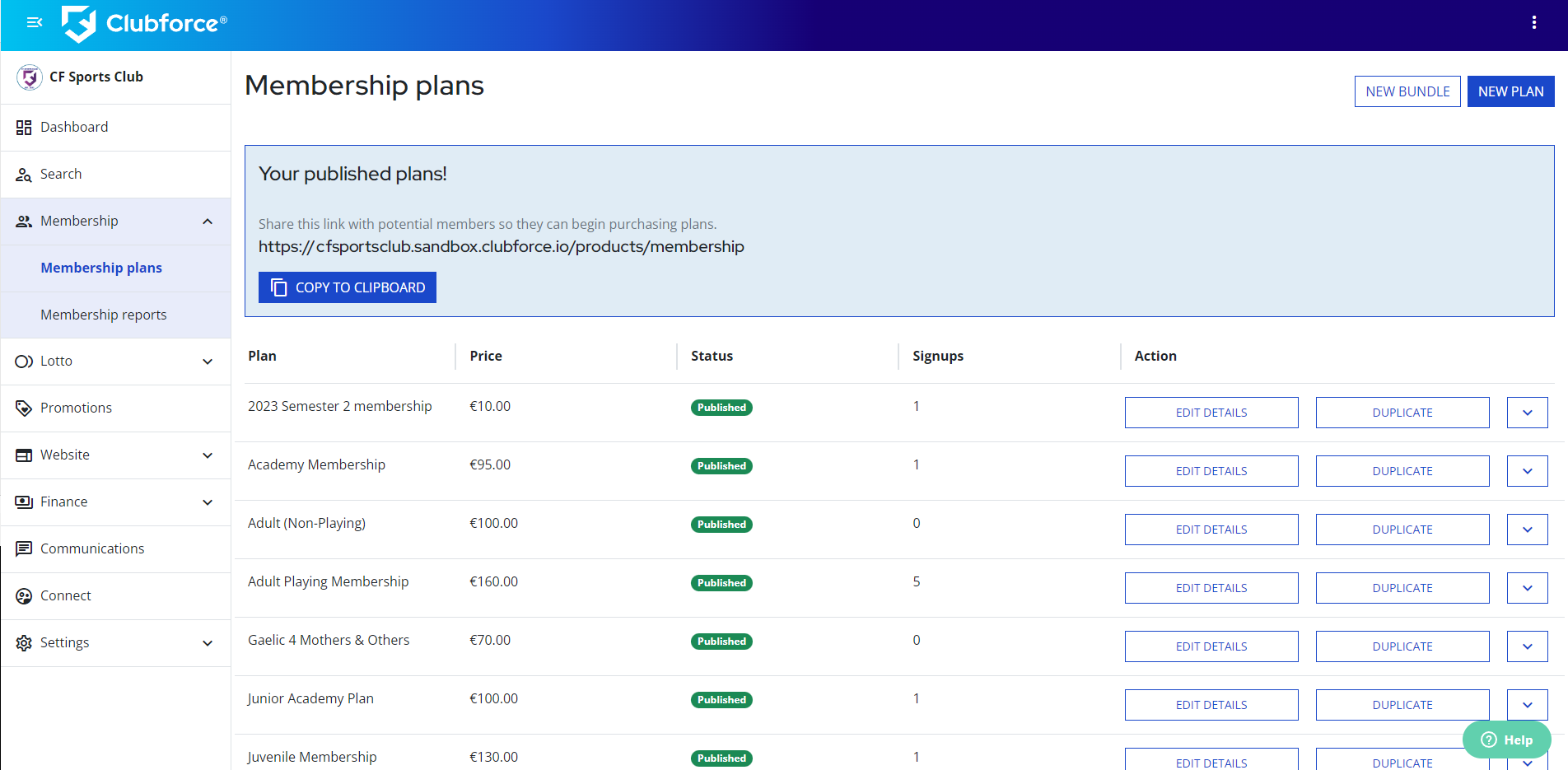 There are two steps to creating a Family Plan bundle;

1. Selecting the plans to combine
2. Inputting the bundle details and discounts.

Step 1: Selecting the Plans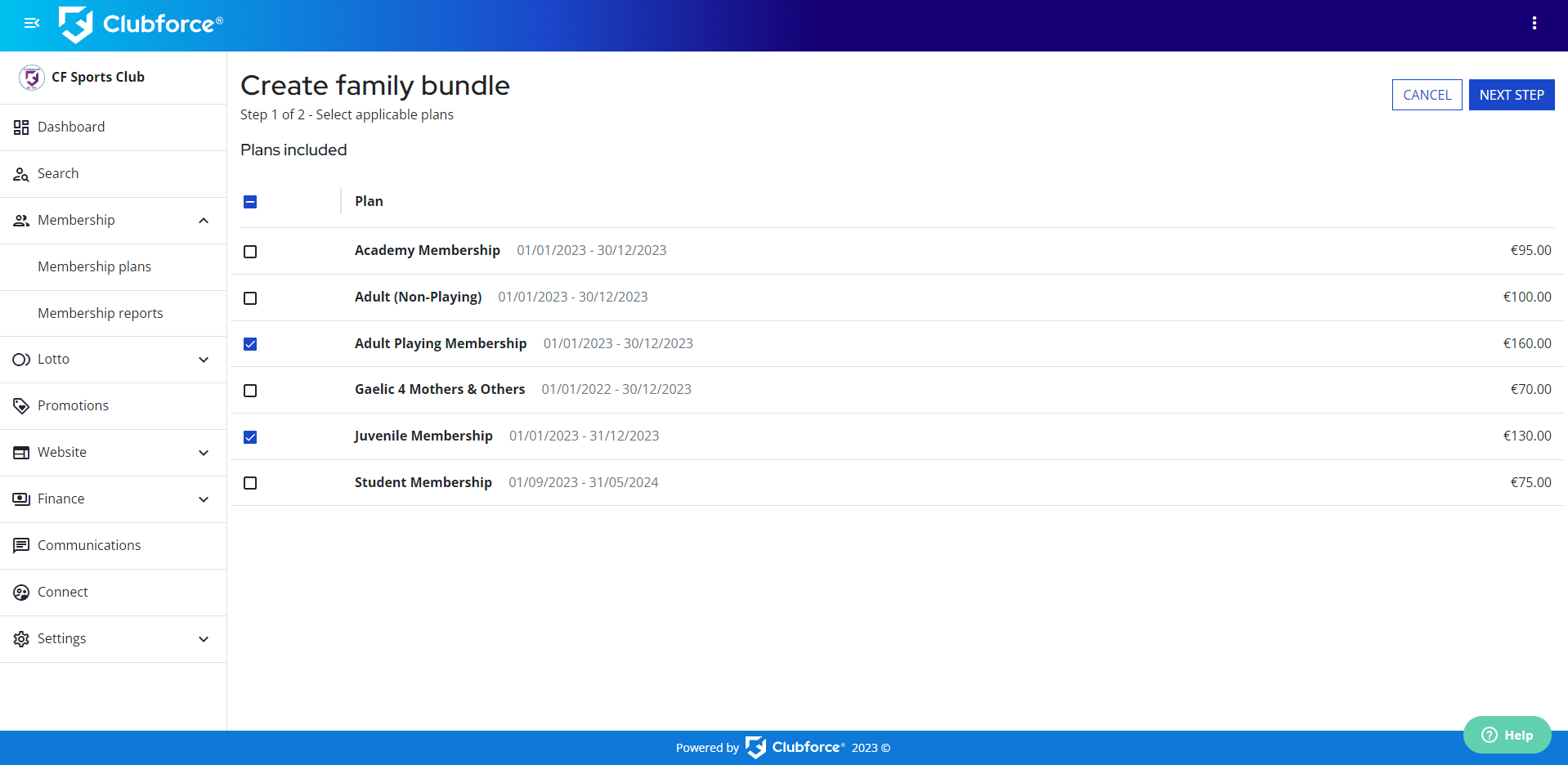 On screen, you will see a list of all published membership plans that have been created for your club. The plan list will include the price of the plan and their Valid To & From dates. You will not see any plan that has expired, sold out, or is still in draft state.

To select the plans you wish to combine, click on the tick box to the left of the plan you wish to group before clicking the blue Next Step button. You should only include relevant plan options that incorporate a Family bundle.

Step 2: Inputting Bundle Details and Discounts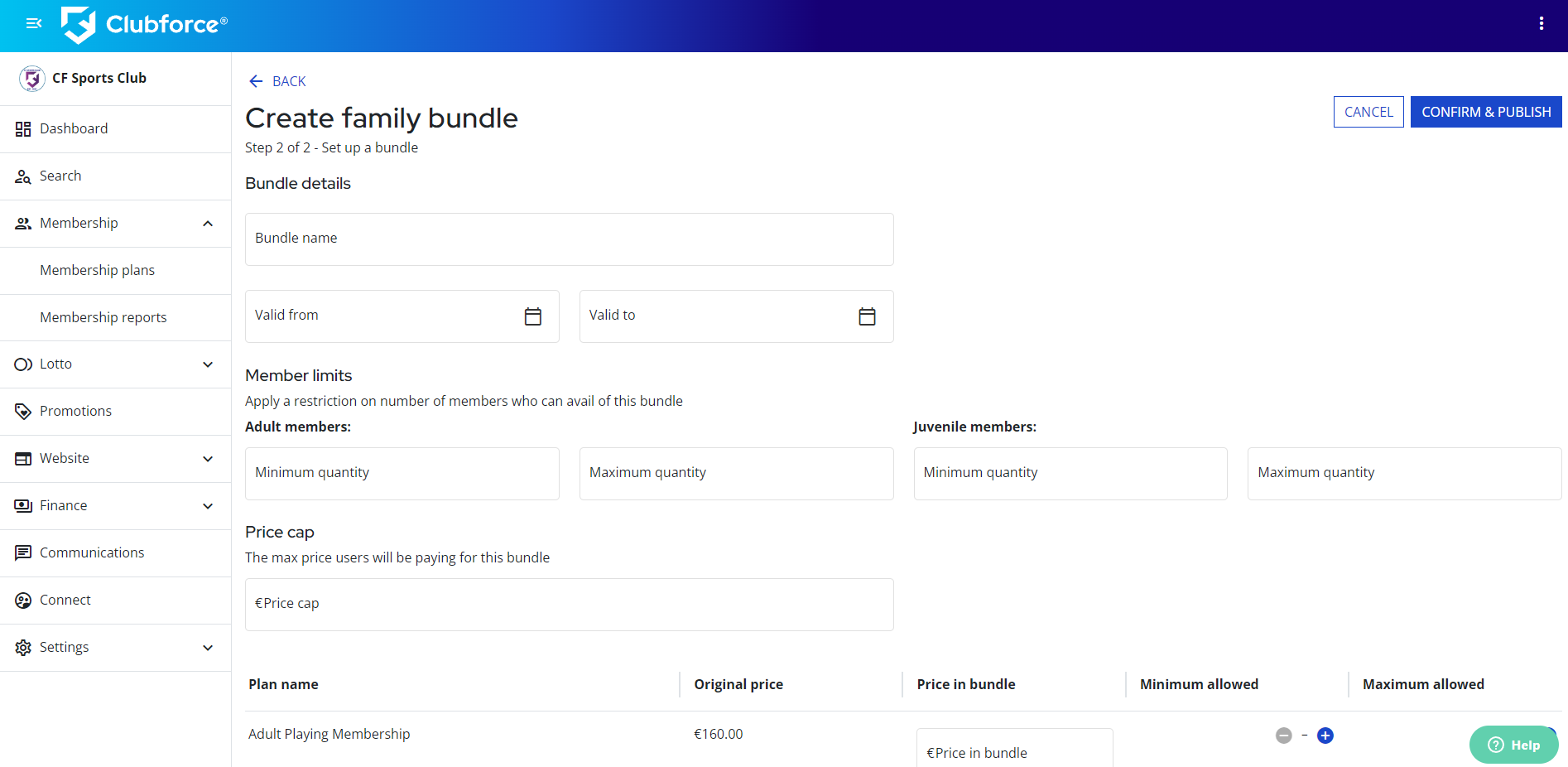 In the next step, you will be required to input the plan details for this bundle. This will include basic information such as the name, Valid To & From Dates along with the member limits for the bundle. For example, if you wish to limit the plan to a maximum two adults and a minimum of 2 children, you'll be able to apply these caps on the Member limits section. This will ensure that minimum criteria must be met if you wish to apply for your Family Membership in order to restrict individual members from availing of discounted prices.



Below the Member limits, the club can set the Price cap to be applied on the Family Bundle. You will see your selected plan details in this section and their original price. In order to apply the discount, you can input the discounted rate to be applied. You can also set a max price users will pay for the bundle in the Price cap field to ensure a cap is applied irrespective of how many members are registered within a family.
You will also be available to set limits on each plan a member can register for within the bundle. So if you wish to cap Juvenile registrations to a max of 3 per family bundle, you can set the Maximum allowed on the Juvenile plan to 3.
Once these details have been inputted and you are happy to activate, click on the blue Confirm & Publish button in the top right-hand corner. This will make the plan live and available to purchase on your Membership Form. If you wish to deactivate this plan bundle at any time, you will need to unpublish it from the Membership Plans page.


To view a full step-by-step interactive tutorial, click on the link below